Knit fabrics are comfortable to wear and somehow easy to sew. They come in different shapes, weights, and textures so you can use them for various models and designs. Liverpool fabric is one of the most popular fabrics because it is a crossover between different textures so you can use it to execute the model you choose.
Everything You Want to Know About Liverpool Fabric
Although knit fabrics are soft and comfortable to wear, some people think that they are difficult to deal with. They're sometimes slippery and too stretchy. But Liverpool fabric combines the features of knit and more structured fabrics.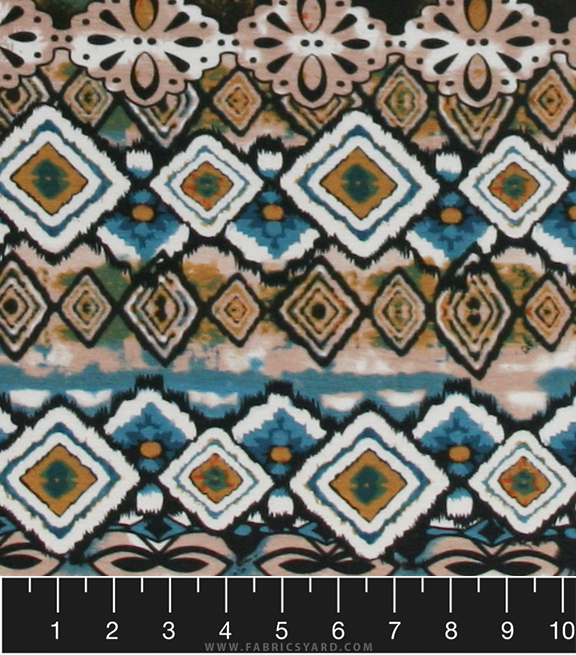 What is Liverpool fabric?
This material is less stretchy than other knit fabrics. It has some weight to it that makes it more structured and less flowy. Liverpool fabric drags beautifully if you choose to use it for a loose-fitting design. If you want a figure-hugging model, it will give it the right structure without clinging to your body.
It's a double knit, and these materials have more weight and less stretch than regular single knits. The fabric is textured on one side and smoother on the other so you can choose any side you like depending on the model you have.
This fabric is made of polyester and spandex, so it's easy to maintain and is quite versatile. Some people describe it as a blend of medium weight double knit and a lighter material like crepe, so it combines the features of both fabrics. It comes in several patterns and hues so you can always find the right one to pick.
What Can I use Liverpool Fabric For?
Choosing the right material will have a great impact on how your final model will look like. There are different types of fabrics that every sewing enthusiast can experiment with. This is why you need to think about the model or design you want to execute before you choose the right material.
Here are some of the best uses for Liverpool fabric:
Cocktail Dress
Liverpool fabric comes in various patterns and colors, so you can easily find the perfect shade for your cocktail dress. The material flows subtly and doesn't move much which gives it the right amount of structure. At the same time, it's soft enough to accentuate your curves and create the right look for any occasion.
Skirts
Whether it's a pencil or A-line skirt, Liverpool fabric can be the right choice for you. You can definitely search online to find lots of Liverpool fabric styles if you're not sure about the right model for your body type and needs. You can also use this material to make full circle skirts that hold the shape while falling elegantly.
Peplum Tops
These designs look extremely good when executed using this material. The material will hug the bust area beautifully, and the same time the wings of the top have the right weight to give you that defined waistline you want to accentuate.
Blazers
Whether you're sewing a formal blazer for office use or an informal one to pair with your denim, Liverpool fabric might be the right choice. It holds its shape so it looks elegant, at the same time it's quite easy to maintain so you can wear it often. It's an amazing choice for office and formal wear because it makes your blazer looks structured and defined. At the same time, it holds its shape well after you spend long hours moving, typing, and driving.
Pants
When you're wearing pants, you want a material that has some weight to flatter your figure, and at the same time, it shouldn't be too stiff to allow you to move comfortably. This is what you get when you choose Liverpool knit fabric.
When Should You Choose Liverpool Fabric?
Fabrics come in various textures so you can always experiment with different ones until you find the right one. Here are some reasons why you should choose this material:
It falls straight. This material is stiffer than other types of single knits and this makes it special. If you need a structured material, you should go for this fabric.
It's easier to work with than other stretchy knit fabrics. Beginner and less experienced sewing enthusiasts find this material easier to control and maneuver than other materials that don't hold the shape well.
It hugs your figure. Unlike other heavier materials, this material stretches enough to hug your curves without being too clingy.
It wears well. The fabric is somehow durable and withstands everyday use. It looks great after being washed so it's a good choice for the pieces you're likely to wear often.
This is a medium-weight fabric that can be used for puffs. If you need to make puff sleeves or need some volume for peplum tops, then this is the material to choose.
Unlike other knits, Liverpool fabric is not suitable for drapes and pleats. It's a medium weight fabric so it won't flow as nicely as other lighter materials. Here are some situations when you should look for something else.
If you're looking for lightweight material for hot summer days. Liverpool fabric is made of synthetic polyester and spandex fibers, so it doesn't breathe well and will make you very hot.
If you need to have some drapes. This material is rather stiff and will ruin the look of your drapes. However, you can mix other lighter materials with Liverpool fabric to create the perfect look for your design.
If you're executing activewear or other tight-fitting clothes that need to have more stretch, then you should look for another material.
Before you buy Liverpool fabric, you should check out the amount of horizontal and vertical stretch. You should also decide on the face you will use to execute the design. You can use this material to create a full elegant ensemble for any occasion because it's so versatile. The good news is that this material comes in various patterns so you can always find something that matches your taste.