What Exactly is a Jersey Knit Fabric?
Historically speaking, jersey knit fabric was made of wool. This fabric was lightweight and had a bit of stretch to it, especially the single knitting fabric. Today, you can find jersey knit fabric made of cotton, silk, and synthetic fibers. Double knitting fabric has less stretch and more weight to it.
There are several types of jersey knit fabric used for various types of apparel. This diversity makes this fabric extremely popular as it can be used to make several pieces and models. Since its debut in 1916 by Coco Chanel, jersey knit has established its status as a popular fabric for clothing apparel, after long being associated with undergarments. Today, it's a staple in the wardrobe of international fashion designers who use it to bring their trendy creations to live.
History of Jersey Knit Fabric
The Isle of Jersey lies in the Channel between Britain and France. This is where Jersey's sheep were bred to produce wool used to make wool jersey knit fabric. Men loved the heavyweight, yet soft sweaters made of this fabric as well as undergarments that kept them warm.
Coco Chanel used this fabric to introduce her iconic jersey coat. Later, women loved how comfortable and smooth jersey dresses felt, and they became popular across the globe.
Today women and men can easily find various types of jersey knit fabrics that cater to all needs. Cotton, rayon, and silk are among the types you can choose from when you're shopping for jersey knit fabric. As a result, the fabric can either be lightweight, medium-weight or heavyweight, depending on the material used to manufacture the knit.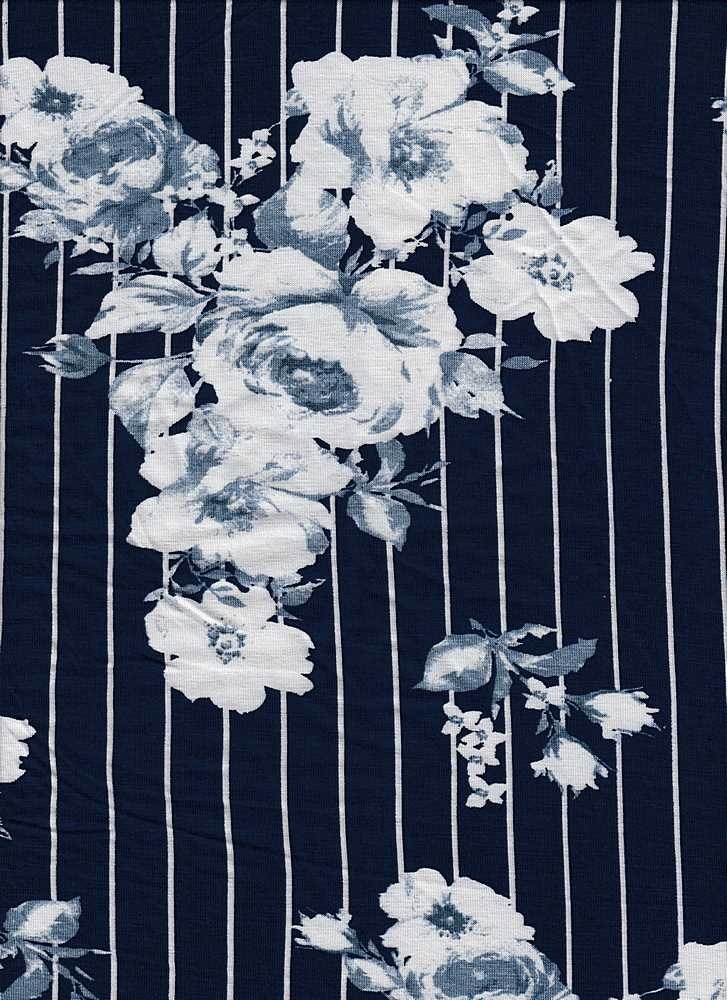 (Shop This Jersey Knit Fabric)
Characteristics of Jersey Knit Fabric
The characteristics of the knit fabric depend on the types of fibers used to make it. Cotton has different attributes from silk and wool. But all kinds of jersey knit fabric share some properties.
Elasticity
This depends on the type of knit and fiber used to make the fabric. The single knitted fabric is more elastic, especially when you add lycra or spandex. Most jersey knit fabrics are very soft to touch.
Durability
Jersey knit fabric is durable and resistant to tear. It wears well and withstands the washing machine and ironing. It recovers its shape after creasing and returns to its original shape.
Draping
Thinner jersey knits can be effortlessly draped. They also tend to curl at the edges. Heavier jersey knits are more stable.
Versatility
Depending on the fibers, jersey knit fabrics can be used to make undergarments, t-shirts, cardigans, turtle necks, as well as coats and dresses.
Types of Jersey Knit Fabrics
Various kinds of fibers are used to make jersey knit fabrics. This makes them versatile and practical because they can be worn on different occasions.
Cotton Jersey Knit Fabrics
These are either made of cotton fibers or cotton blends. They're usually very soft to touch and can be a little bit heavyweight. These fabrics are not suitable for drapes, but they're stable and have more structure to them so they'll wear well. Cotton jersey knits are usually used to make kids wear and t-shirts because they're breathable. Thanks to their structure, people use cotton jersey knits to make pants, dresses, and straight skirts.
People, who like to wear something with some stretch, choose fabrics that combine cotton with lycra or spandex. These knits have more stretch and recover their original shape quickly. They're mostly used to make leggings, tights, and even socks.
Silk Jersey Knit Fabrics
These are very soft to touch and have a luxurious sheen. Unlike cotton knits, which are naturally opaque, silk knits are usually translucent. Silk jersey knit fabric is perfect for drapes because it moves smoothly. It's generally used to make dresses, blouses, lingerie, and wraps. Silk knits are also used to make smocked designs because they have lots of movement.
Silk fabrics can regulate the temperature of the body. This means that they will keep you warm in cold weather and cool in hot weather. If you need more stretch, you can buy silk jersey knit that combines silk with lycra or spandex. Silk jersey knit fabrics are generally more expensive to buy than other knits, but they're worth that extra cash.
Wool Jersey Knit Fabrics
Wool jersey knits are medium or heavyweight, and this makes them perfect for fall and winter. They're soft and warm and can be used to make several types of cold weather apparel. Natural wool is quite expensive; therefore, people usually combine wool blends to make them more versatile.
Wool jersey knit fabrics are used to make cardigans, sweaters, coats, ponchos, jackets, and dresses. Wool blended with lycra and spandex has more stretch which makes it more suitable for tight-fitting clothes.
Rayon or Viscose Jersey Knit Fabrics
These fabrics are very smooth to touch, and they have an excellent drape so they can be used to make figure-hugging dresses. Combining rayon with spandex and lycra adds more stretch and recovery to the fabric to make it more versatile and practical.
Rayon jersey knits are perfect for summer dresses, tops, blouses, skirts, and leisurewear. Double rayon jersey knits are heavyweight and less elastic. They're usually used to make jackets and pants because they don't crease.
Which Jersey Knit Fabric Should I Choose?
Think of the model you have on mind. If you want to make a dress or a top, you should choose a lightweight jersey knit fabric like silk or rayon. Wool is heavier and is more suitable for coats and warm jackets. Go for something that has some lycra or spandex if you need some stretch. Most natural fibers don't stretch much.
Jersey knit fabrics come in various dyes and patterns, so you'll always find something that suits your taste. You can go for solids or choose among floral patterns, paisley prints, polka dots, and animal prints. Make sure that you wash or dry-clean your fabric before sewing it because it's prone to shrinking.
The right jersey knit fabric is out there. Explore different options and pick the one that suits your design.