Slowing the spread of COVID-19 is essential, and wearing a homemade mask can help. Many public and community areas require it, especially if you are going to be near another person. It is also highly recommended by the World Health Organization (WHO) and the Center for Disease Control and Prevent (CDC). Many of your local county and state health departments also recommend or require you to wear a mask.
How to Make Homemade Face Masks Using Fabric by the Yard
While you can buy masks that are already made here, you may feel crafty enough to make them on your own. Whether you have any savvy sewing skills or not, creating a mask from loose fabric is very easy. It's even so simple, you don't need a detailed pattern or even own a sewing machine. In fact, crafting your own masks means you can add your own personal touch and choose the pattern that fits your style, stary by browsing our collection of fabric designs.
If you have the following items, you will have what you need to make your face mask.
Start with with a loose piece of fabric that you'd like to wear regularly. Perhaps you like floral print fabric or polka dots. Feel free to browse our great selection of materials as we have something that will be perfect for you.
Scissors
Hair ties or rubber bands
Tape measure or a ruler
Step 1: Lay a 20in X 20in square cloth flat on a table.
Step 2: Fold the top of the fabric to the middle and do the same with the bottom.
Step 3: Fold it again from the bottom to the middle and then from the top to the middle.
Step 4: Loop a hair tie or rubber band around each end of the fabric. These should be 2inches in from the end of the fabric.
Step 5: Fold the right side in towards the center, then the left side in towards the center. Each side should meet.
Step 6: Grab the mask by the rubber bands and place over your mouth. Secure each side by wrapping the band or tie around your ears.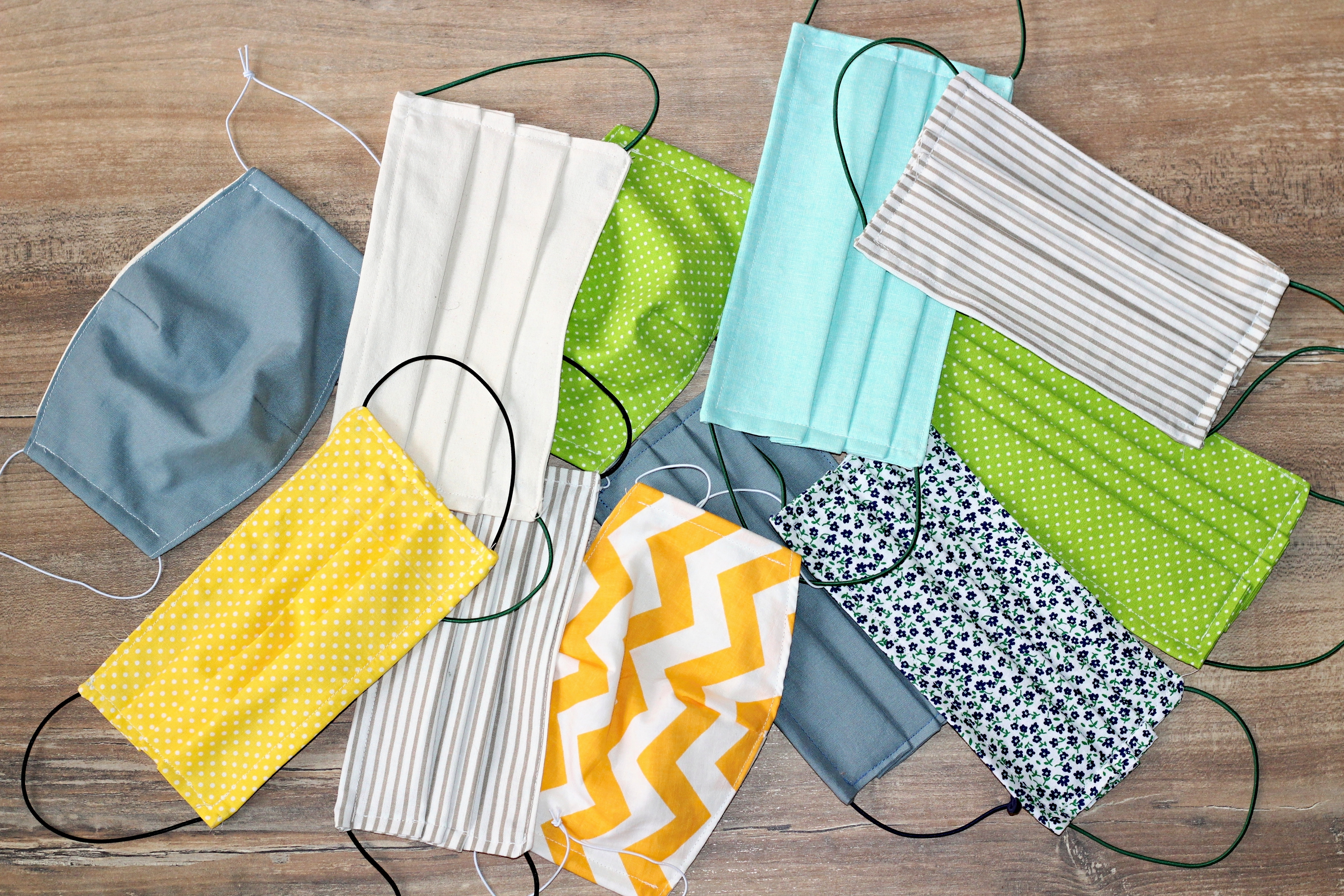 How to make homemade face masks with built-in strings
With this style, you will only need some fabric, scissors, and something to measure it with like a ruler or tape measure.
Step 1: Lay a 20in X 20in square cloth flat on a table.
Step 2: Measure 6-7 inches from each side of the fabric and cut the material. Leave about half an inch of material at the top and bottom. These will be the strings that you will use to tie the mask.
Step 4: Cust the string fabric in half if you have too much.
Step 5: Tie the strings around your neck and then around the top of your head for a perfect fit.
These steps are easy, and you can make these face masks for everyone in your family. If you don't have any extra fabric at home or any t-shirts to spare, we at Fabricsyard.com have the best selection of styles, colors, and designs to choose from. Whether you're looking for tie dye fabric or houndstooth, we'll help keep your safe and covered.